Now, more than ever, it's critical that businesses move beyond "silver bullet" marketing – only employing a single marketing tactic and assuming their business will soar. These are the businesses that try that one thing, then claim "marketing doesn't work." It takes multiple touch points to convert a stranger into a buyer and your marketing needs to reflect this.
In order to beat out competitors and rise to the top of your market you need to tie together your outbound marketing, inbound marketing and customer experience to create a marketing strategy that carries users through every stage of your funnel, and drives industry-leading results for your business.
Marketing 201 is our mini-course on how to do just that.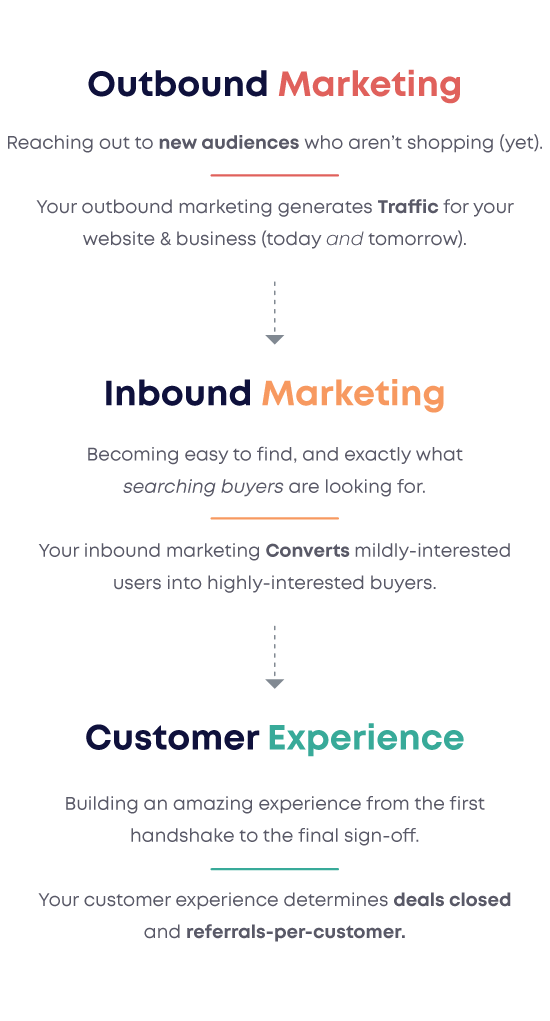 1. Outbound Marketing – Building Traffic
Definition: All of the actions your business takes in order to reach new audiences – reaching out to new people.
Why is Outbound Marketing Important?
Your outbound marketing avenues generate new traffic for your website and business both today and tomorrow. We see examples of this every day. TV commercials, Facebook ads, magazines, Google display ads, billboards, mail outs, etc. These are the common areas people typically think of, but there are also avenues like trade shows, networking, referral partnerships, prospecting and account-based marketing. These are all outbound marketing tactics designed to reach those new customers.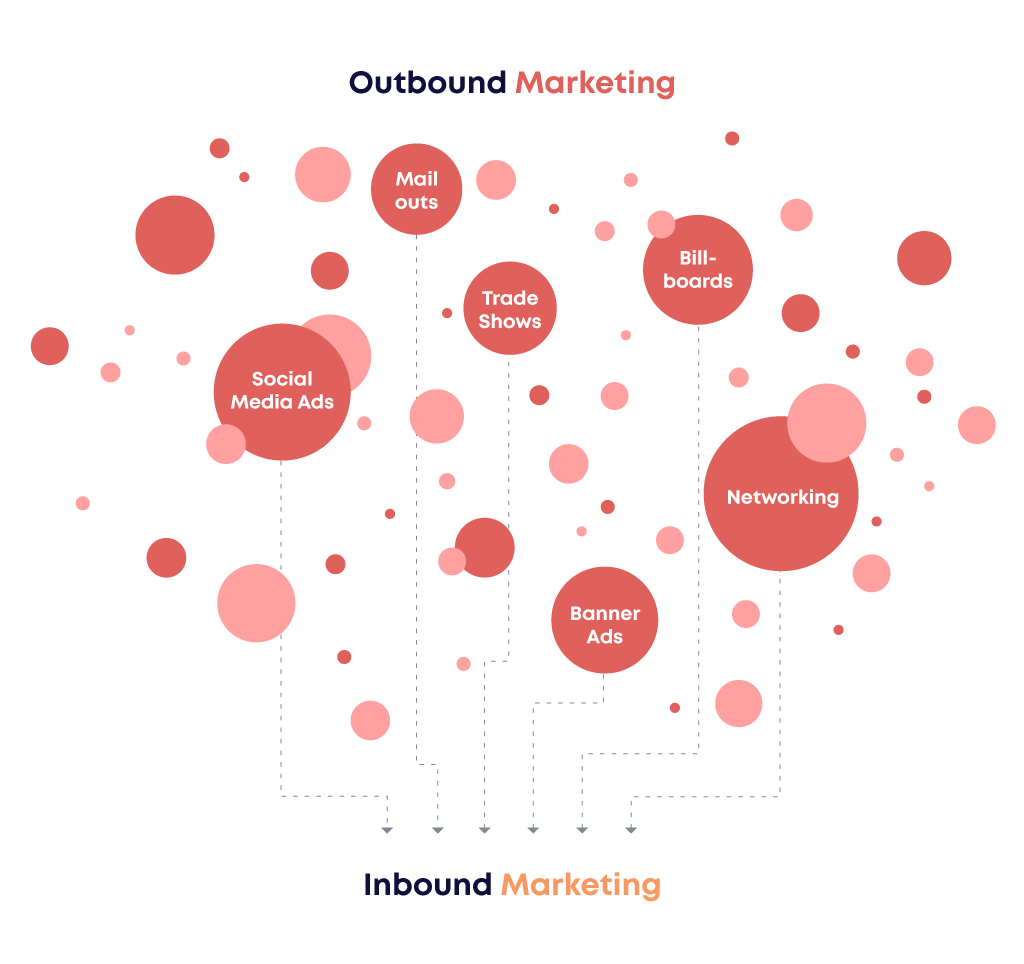 How Do You Drive Traffic Through Outbound Marketing?
Depending on if you're a B2B (Business to Business) or B2C (Business to Consumer) company, your tactics may vary quite a bit. Why are the approaches different? Because of how these affect your audience size and the purchase size. Smaller audiences and larger purchases will mean you can spend more on a select number of people, whereas larger audiences with smaller purchases mean you can target large volumes, but the cost-per-engagement better be rock bottom. Once you know your audience, this will give you a strong indication of where you can develop new outbound marketing tactics, reaching out to new people in that audience.
B2C businesses would typically tap into:

Display advertising
Social media ads
Mass mail outs
News features
Signage, billboards and transit ads

B2B businesses would typically tap into:

Networking
Trade Shows
Google Search Ads
Prospecting and Account-Based Marketing
Regardless of which avenues are driving traffic to your business, make sure you've planned this area of your marketing and that it's targeted to your unique audience.
How Do You Measure Success?
The last question to consider with your outbound marketing is how you're measuring its success. While most businesses measure this through sales or leads, this approach fails to factor in that your website, sales team, or lack of branding may be the problem – not your ads. So what do you measure?
Traffic
The best way to measure the success of your outbound marketing is by counting how many qualified users/people are taking interest and visiting your website/storefront. If you're ads worked, then you have people reading and shopping. From there it's the job of your Inbound Marketing to convert those shoppers into leads/sales.
2. Inbound Marketing – Converting Users into Buyers
Definition: Making your business easy to find and building trust with every interaction, capturing all the people who are already looking for a business like yours.
Why is Your Inbound Marketing Important?
Effective inbound marketing isn't just something nice and shiny to look at. It should function as a highly efficient funnel, drawing interested individuals into your sales cycle.
Think of it this way, whether you put up ads online, sent a piece of mail, or handed over a business card, where would the potential buyer go next? They'd look you up online. Be that finding out where your business is, or digging through your website, MOST of your outbound marketing will depend on your inbound marketing in order to convert them into a sale or lead.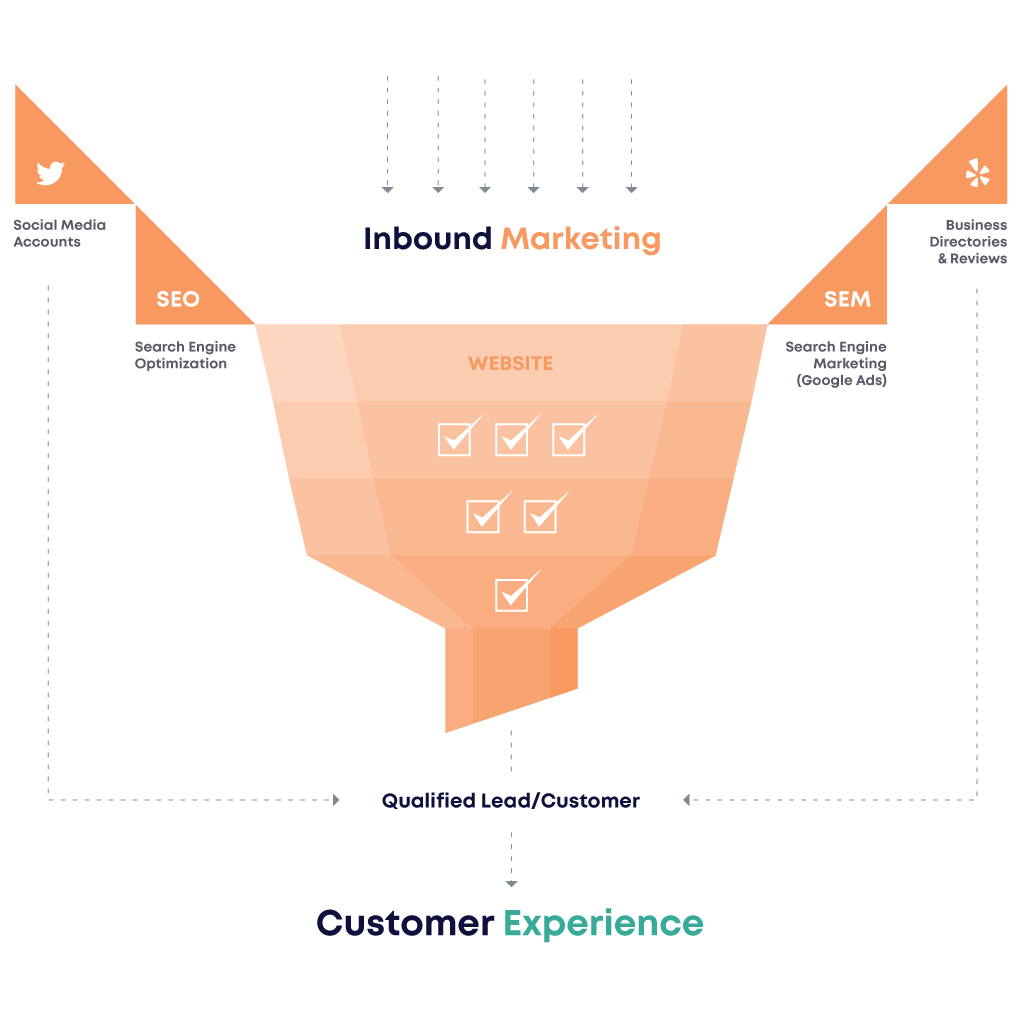 How Do You Improve Conversion With Your Inbound Marketing?
Website – When it comes to inbound marketing, your website is your biggest asset. If you want your website to improve your conversion rate, you'll need to focus on these three key areas: content, design and website structure.

Content: You need to provide quality bite-sized content that intrigues and informs your users. When they visit your site they should find the information that they are looking for, and in an order that is relevant to them.
Design: The design is where you tell the user exactly what kind of customer you want. An old, outdated website? Great for someone cheap, out-of-date and (hopefully) never saw your competition? OR your website can attract someone who recognizes quality, is already aware of what's out there but feels your price is worth it.
Website Structure: Lastly, there are a number of areas which we would look at in the User Interface (UI) design. When funneling users this equates to:

Calls to Action (CTAs) continually drawing the user closer to your goal
Providing only what's needed (don't overwhelm or distract)
Become a student of UX/UI, learning the details of what people react well to, and what they don't (eg. image sliders are a bad idea!)

Quality Business Listings – Google, Bing, Apple Maps, etc. — all of these help people find you more easily and are the first touch point in building trust (those star ratings really do make a difference!)
Search Engine Optimization (SEO) – These are all activities you do so that search engines can see what you offer, evaluate if people need it, and connect it with relevant searches. It doesn't reach people who didn't search, but it does capture the ones who do.
Paid Searches – If you don't automatically rank in the top 3, Google is happy to take a little money and put you there. It's not nearly as good as being #1, but it's the next best thing.
Social Media Presence – Keep in mind that this is not the same as social media ads (which reach new audiences) – your social media accounts are simply to connect with those who look for you and can help you connect with your audience in consistent, meaningful ways.
How Do You Measure the Success of Your Inbound Marketing?
We've stated the obvious fact that in order for your inbound marketing to be effective it needs to have "traffic." However, your ability to convert that traffic into quality sales/leads is just as important. In marketing, we call this a conversion rate – ie. if 1000 users look you up, what percentage actually try to contact you?
The good news? You can measure most of this for free! The best tool we can recommend is Google Analytics. As a business owner, you probably spend a great deal of time counting every dollar that moves in and out of your business. You know when you have high volume seasons and when business is going to be slow. As a business owner, you should also know your conversion rate – only by measuring this can you improve conversion and get more from your marketing.
Lastly, you might think that once you've converted a user into a lead, your marketing sequence is over, but if you want brand loyalty and referral relationships — your job has just begun.
Customer Experience – Reviews & Referrals
Definition: Building an amazing experience right from the first handshake to the final sign-off. Your customer experience determines deals closed and referrals-per-customer.
Why is Customer Experience Part of Marketing?
Everything your brand does – the way your team sells, delivers the product, services it and follows up months later – can play a roll in future revenue. Because this is an opportunities/revenue generating strategy, your marketing team should be looking at this area of your business. Focusing on the customer experience with a marketing lens will be one of the most important investments your company can make in today's competitive business climate.
Here's a couple stats:
Retaining customers is 6 to 7 times less costly than acquiring new ones.
91% of customers say they'd give referrals, but only 11% of salespeople ask for referrals.
While repeat customers and upselling opportunities are the primary boon of these activities, reviews and referrals are a close second. Asking your customer to provide an online review online and refer someone to your business are key elements to building stronger inbound marketing, and they can also boost the customer experience. That's right – asking for reviews/referrals often (psychologically) BOOSTS the customer experience if done properly. Plus, with intentional contact following the sale, you are more likely to generate repeat business.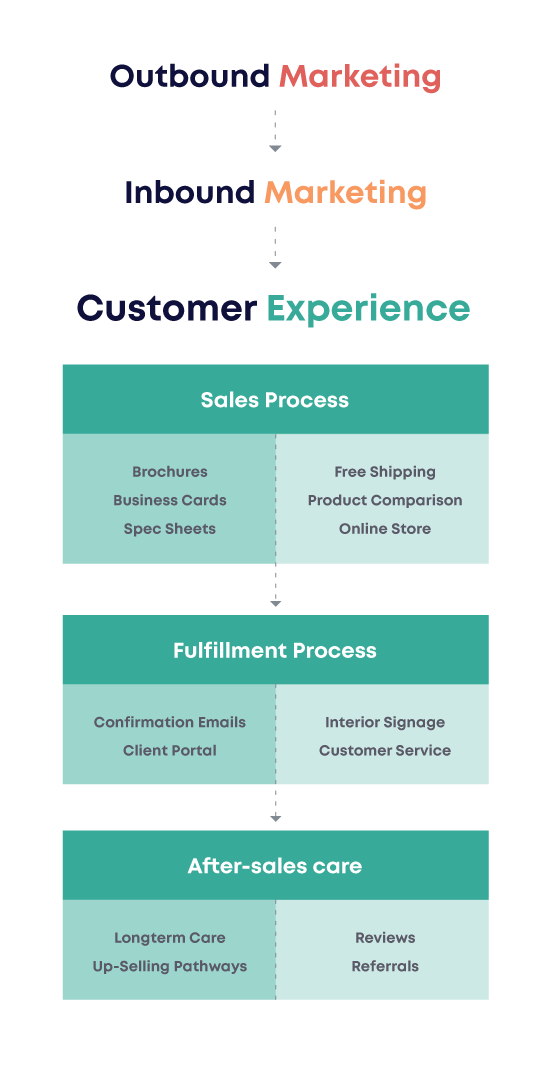 How Do You Increase Referrals & Reviews Through Customer Experience?
We'll be honest – there are endless ways to build a better experience, all of which will increase reviews, referrals and repeat buyers. BUT there is one area that most businesses are missing — the after-sale experience. While many businesses are eager to grab the cheque, shake hands and move on, there's far higher ROI in sticking around.
Within your business, ask these key questions:
How/when are we asking for reviews?
How/when are we asking for referrals?
What/when are our upselling opportunities before or after project completion?
How do we guarantee the customer is smiling when they pay the final bill?
2, 4, and 8 months after, how do we show the customer we care about them?
After you've improved your "end of journey," take a second look at your sales process. This is a matter of asking your sales team if there are any tools or assets which could make their job a little easier. What would help them "wow" every prospect they meet?
A stunning service document or "take-away" item
Powerful digital assets on the website or in an easy-to-email format
A proper Customer Relationship Manager (CRM) to track interactions
Onboarding materials which smooth the hand-off to the operations team
Or sometimes, just a really nice business card…
How Do You Measure the Success of Your Customer Experience?
Most businesses would say that by fulfilling everything they promised they have delivered a great experience. That's not success – that just means you're not in breach of contract (so please don't applaud). A successful customer experience is measured through the percentage of deals you close, the ratio of positive reviews compared to customers and the ratio of referrals compared to customers. When you take the time to improve your CXM, you will see these results increase and the benefit to your business will be unmistakable.
Summary
Think of digital marketing as every tactic that can get you more eyes, more interest and happier customers. When you pay attention to reaching new audiences, converting the interested ones and delighting the people you serve, you'll notice a lot more of your business "just works." You'll still have busier seasons and slower seasons (marketing scales everything higher), but your business will be a lot less dependent on rolling dice and hoping for lucky 7s every time.
Businesses require a lot of touch points to build sales and grow. We create marketing strategies and websites that convert mildly interested users into highly interested buyers. Let's talk marketing.
True Market is a full-service marketing agency serving Calgary and other valued clients throughout Canada and the United States. Our work is built on down-to-earth, brass tacks solutions from a team of really talented people. We help build out your strategy, equip your team to do as much as they can, and bring in our team right where you need it most, We're really good at educating, measuring and guaranteeing you understand your marketing channels and exactly why they work.