In an ever-growing online world, it's more crucial than ever that your business not only show up in search engines, but that it ranks within the first page (and even better in the top 3 spots).
A fully developed SEO strategy will have a lot of considerations and uses a large combination of techniques, each bumping up your page by a few degrees at a time.
Unfortunately, that means there's no be-all, end-all technique, but there are things you can do yourself to get started, alongside some (more technical) things for which you'll likely want a local SEO agency to handle. And we mean local! Not the overseas SEO company that may be cheap, but has no accountability to you and no commitment to the end result actually working. Worse yet, you can even get penalized by Google for spammy backlinks and your "cheap" solution costing you BIG when it comes to being found online. Local companies depend on their reputation, and this works to your advantage.
The best news? There's actually a lot you can do before hiring the pros. With the below tactics in hand, take an honest look at what you have time to do and what you can afford to do.
DIY SEO
In the big wide world of SEO some things are just a matter of hard work while others will require some know-how.
So, what can you do yourself to boost your SEO?
Identify Your Goals & Keywords
As with any campaign, establishing clear goals will be key, and when it comes to SEO (the long game) fewer goals is always better. Here's some questions we recommend considering:
If we could only rank for one thing, what area of our business is the most important to build online? What gives us the largest profit and the biggest potential ROI?
If we want to rank #1 for this, who are we stacking up against? Is this attainable?
Are our goals here likely to change in the next three years?
Do we have a differentiator/advantage that we can add in this area that will give us a leg up?
Is this an area where we can easily build ongoing content and continually add value online?
Select Keywords
Following a clear look at your business goals, the next question will be what keywords support those goals.
"Keywords" are the specific searches (and individual words), which tell search engines exactly what your business/content is about. Put in other terms, if you could be known for only one word or one phrase, what would it be?
For someone selling cars it would likely be "car dealership Calgary;" while an accountant may be more interested in "business tax strategy." Regardless of what you pick, fewer keywords are far better than having a lot (aim for 1-3) and they'll need to match what your customers are actually typing into search engines.
Include Keywords in Your Copy
Once you've identified your target keywords, start looking at the content you already have. If you're targeting the word "plumber," how often do you include the word "plumber" or adjacent terms like "plumbing" or "plumbed in" within your website? These are all keywords that indicate to Google that your topic is relevant to its users.
It's also good to know that Google places the most importance on your headers first paragraphs and first sentences in your paragraphs, so your most important terms will need to show up first. They should then show up at least another three times throughout your content without compromising the integrity — aka don't push keywords in if it degrades the content as a whole.
Chances are you're naturally including these in the content you're creating — but are they:
In your titles and headings?
Showing up multiple times on a page?
Used appropriately (and not unnatural sounding)
You can fine tune any of the content you already have on your website to incorporate these tactics and keep them handy for when you're writing new material. The more you do this, the better chance you have at affecting your rankings.
Create Valuable Content
This is one of the best areas to build traffic to your site because you're creating content that people will latch onto — free, relevant and perfect for your audience.
Free?
Hear us out. This is trust-building content, so when you go to make a sale, your customer knows and trusts your brand already. Kind of like dating before you go through the engagement/marriage stages. What's more, Google notices when people stay on your site (and don't continue searching). If you can be the last site they visit in their search, Google will notice.
Your content calendar could include:
High-value (longer) articles
Podcasts & audio
Videos & gifs
Infographics
(Even better) A combination of all of the above!
These need to be shown directly through your website but could be embedded from YouTube or a Podcast hosting site. This is also highly shareable content that will encourage users to share your content, which in turn, multiplies the ROI of your time.
Lastly, growing content streams tell search engines that you're actively updating your site, helping them index you based on expertise in your field and your use of relevant phrases that your customers are searching for online.
Need help developing your content calendar?
We can do that!
Generating Great Content Ideas
Listen to your customers and make sure it's information they want to hear about, not just what you want to sell them. Not sure where to start?
Look in these areas for content ideas: 
Ask your sales team what questions they hear all the time

If you already have a blog, check your comment section and analytics – what gets the most attention?

Google Trends

is a great tool that lets you search for trending topics on a given subject

Check out what your

international

competitors are doing – copying from one source is plagiarism; pulling from multiple sources is just good research 
Think of what clients would want to learn from an expert – if you're looking at a matchmaking company, maybe you want to know the unwritten rules of dating or perhaps information about an upcoming mixer they're hosting that you might like to attend. You're connecting with their interests and giving information that's genuinely helpful. 
Most importantly (and we cannot stress this enough) consistency is key. Much like building muscle, you can't just do it once a year and hope to have success when you look in the mirror. Instead, you need to keep it up. Now, we're not suggesting you release two articles a day. Instead establish a frequency that you know you can commit to and stick to it! 
Craft Your Metadata
Metadata is what displays in search engines when your website appears. It includes a title and a description, and you can edit these on the backend (eg. the WordPress login) of your site. It's important to set these up for every new page you create and include your targeted keywords within them while describing what the page is about. 
Your metadata will include a short title with your business name (under 60 characters including spaces), your description (160 characters including spaces), and they both need to be accurate to what that specific page is about. Otherwise people will leave your site right away — hurting your SEO!

Get Listed! 
Next, make sure your business is findable within your niche market. This means getting into online business directories and build the number of listings where your business shows up. This is a great way to start building backlinks, just make sure you're doing this where appropriate and only when it directly applies to your business – you wouldn't put a clothing store on Renovation Find!
The most important online directory not to be missed is Google My Business. You can add your website, phone number, address & map, photos and encourage reviews here.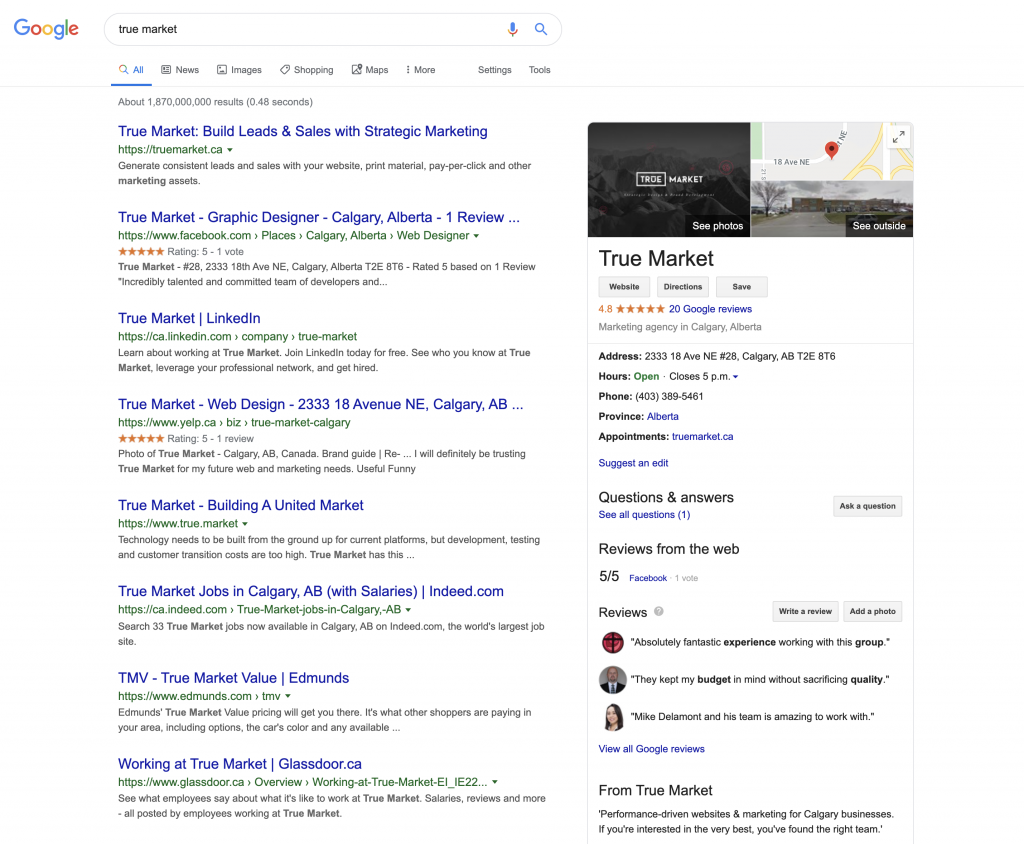 The Hard Parts
In deciding when to bring in an external SEO team, consistency and time commitment often play a big role. Typically it's either when you're too busy to execute your strategy or you've already maxed out these above tactics that it's time to hire an SEO company. 
There are also a number of critical factors in SEO that simply require professional help. Here's the short list of must-haves:
Mobile friendly –

test your website for mobile with Google

Fast loading –

test your website speed with Google

SSL Certificate – this is that

https://

URL — do you have that in place?

No broken pages, links or functionality — yes, Google notices this too!

Analytics – getting proper (and actionable) measurement in place
There's also a number of things that you'll need an SEO agency in order to spot, but the above list is things you can see/check.
While there's a lot you can do on your own, sooner or later you'll want to enlist a little help. The upside to this is that it's good for you! No matter how capable an athlete is, hiring a coach will still up their game.
Hiring The SEO Pros
So is it time to bring in the big guns? Alongside saving time there's a lot of added benefit to having a team that specializes in building strategic SEO plans. A well balanced SEO team is going to be able to offer:
Research to validate keywords, the competitive landscape, hidden opportunities, and a roadmap to your SEO goals

Professional content writers

Professional design services (graphics, audio & video)

Web developers who specialize in search optimization

Ongoing reporting and recommendations

A suite of tools for diagnostics & monitoring
If you're in any way unsure if your website is properly set up to be found by search engines or want to save yourself some time, find a local agency that brings a full team of experts to the table. You'll be tapping into years of experience and a lot of data that can fast track the results you're looking for. 
Some Quick Fixes
Building your SEO will involves some one-time fixes and improvements alongside some ongoing (life-long) SEO growth. 
Covering the one-time fixes, your SEO Foundation, may have some similar elements to what you can do yourself, like trimming dead pages, auditing your keyword use and cleaning up your metadata, but an SEO company will go into this with a lot more depth. Tapping into years of experience, these steps are a lot more thorough with an agency and you'll also gain access to tools that would be costly (e.g. $150/mo+) to get for yourself.
Alongside the visible "user-facing" changes, SEO companies will also be reviewing the code structure and metadata of your website. It's actually quite common to find that widely used themes or "professionally" developed websites are missing critical metadata, or using the wrong HTML5 elements within the code — essentially misleading search engines with their poor practices.
Lastly, your SEO company will take a look at your off-site SEO, diving into backlinks, spam scores, domain authority and key opportunities. This can be a treasure trove of "quick wins" as well as identify massive pitfalls, which could be around the corner. 
We once found one of our new clients had used an offshore SEO company that created over 800 backlinks on disreputable websites and all with the exact same (terrible) content. It had created a temporary boost in their ranking, but foretold a huge loss, which was hit about one month later. Our first task? Cleaning up all of the damage that had been done.
Growing your SEO Strategy
Once your site is set up, works properly and is representing you well for search engines, your SEO strategy will move to the ongoing work — at True Market this is our SEO Growth Package. 
Building Up On-Site SEO
Similar to your DIY plan, a big piece of this is creating a custom content plan which is based on industry research and data (e.g. from your marketing, analytics and sales/support teams). This content strategy allows us to continually create (and dial in) content that resonates with your customer base and not waste time on "spinning your wheels" with topics that never gain traction. If you're date's interested in soccer and you only talk hockey — they're not likely to stay for very long. 
It's also important to participate in this process with your SEO agency. If you're able to produce videos or podcasts, they can help by providing topics and keywords to weave in. Once it's created, these can get to posted in such a way as to make sure that Google can read the context/content of the video. Collaboration always turns out the best results.
Building Out Off-Site SEO
With shareable content created — your audience now has an opportunity to create "organic" (naturally generated) backlinks on your behalf. Your readers are already looking for valuable, insightful information and when they find it, they're typically willing to share it with their own communities. Think of these as endorsements — they're telling search engines that they've enjoyed your content enough to pass it on, which signals to the search engine that's it's worth sharing more. 
SEO companies also help this process by "farming backlinks" — contacting industry partners, niche writers and websites that are looking for content like yours. A great SEO company will do all the leg work here, so you can reap the SEO "endorsements" without writing guest blogs, contacting hundreds of website owners or curating a "content community."
Monitoring the Progress
As we said, building an online search ranking doesn't happen overnight. It's a long-standing commitment to continually optimizing your website and content based on how customers interact with it. 
The last area your SEO team will tackle is your reporting and analytics. There's a huge number of tools available to do this, but the end goal is to mine out data that can lead to suggestions on how to tweak and improve your on-site and off-site assets (articles, backlinks, landing pages and reputation). 
On top of tracking how people find your site, or what pages they visit, this can also include what users are clicking on (even if it's not a button) and how far down the page users stop reading. Agencies use those data points with new posts and for updating existing content. 
Time vs. Budget  
At the end of the day you'll have to make a choice that's right for your business. Balancing your time against your budget is the only way to decide what's best handled internally and what's best for an SEO agency.  
The time you spend developing your search rankings may be better spent on your business and customer service, and a wisely spent budget can get you the SEO results you need a lot faster.
The biggest question? How long will you wait before entering the race?
Make Your SEO Plan
Contact Us