You've probably read one of these lists before. In fact, you've probably read a virtual library, looking for what you might be missing. SO we won't bore you with the same old lists you've heard again and again. This list is the top six tactics that we see bringing real value which you *possibly* haven't considered just yet.
When we meet with clients to create a marketing strategy we always recommend a balanced approach. What we mean by a balanced marketing strategy is one that utilizes multiple tactics depending on where people are in the buying cycle. Different stages need different approaches and that's what we want to plan for.
In our work we this breaks down as:
Reaching new audiences – people who don't know about you and may or may not be searching yet – this is outbound marketing
Capturing searching buyers – audiences that already know they need your product/service and are actively searching for a business like yours – this is inbound marketing
Leveraging your existing customers or clients. You've got the sale but if you want a referral or review your job isn't quite finished – customer experience
For more information on these three key stages of the customer journey in your marketing funnel, check out our article Marketing 201: The 3 Key Stages.
Now that we've covered the 50,000 foot strategy, let's dive into the most effective ways to reach these audiences and see real returns on your marketing investment. So without further adieu, here's the list of (highly valuable) not-so-known marketing tactics for 2019.
Top Outbound Marketing Tactics
1. Display Ads & Custom Intent Audiences
We know, we know, we said this is a list of the not-so-common tactics and you've definitely heard of display ads before. BUT over the last year we've seen some huge tactical changes due to how these ads can be targeted – specifically, it has opened up display ads to B2B businesses with far more creative and precise targeting opportunities.
In a recent campaign we did for Habitat for Humanity, our Google Display Ads received 10,000 impressions for just $35 – and here's the real kicker – those 10,000 people were within businesses in specific verticals which we highlighted as potential donors. If we had tried to gain the same number of impressions through traditional marketing avenues like TV, radio or billboards the cost would have been 50x that, and never reach the businesses we really want. If you're looking at B2B, display ads definitely give you one of the best ROIs this year.
Now you know display ads are advantageous, but let's go deeper. The biggest improvement to our online marketing campaigns has been through the addition of Custom Intent Audiences. Custom Intent Audiences allow you to connect with people who are searching keywords, pages or apps that you've selected. Google qualifies users as being 'in-market' for a specific topic by taking into account clicks on related ads and subsequent conversions, along with the content of the sites and pages they visit (recently and frequently).
Here's where it gets really interesting. Suppose you're hoping to sell tools to home builders. Sure, you can run ads for people searching "power tools", but go beyond that – think about what other websites those builders are hitting. Target lumber suppliers, drywall supply, contractor websites, etc. etc. etc. We now have the ability to get in front of any business online just by knowing who they buy from and where they shop. Is it creepy? No more creepy than guest blogging for that same lumber supplier or getting a billboard in front of their store – this just works a little better.
Here's how you can define your own in-market audiences using Google's custom intent audiences:
Your first step is a little brain work – think about what your target audience is also looking at online – one time searches, frequent website visits, etc. These are all areas you'd say "if they're interested in ______, then they're interested in us"
Next, head into your Google ad account and select Tools then Audience Manager
Select Custom Audiences – this is where you can set up your new audience
Click the plus sign icon, then Custom Intent
Make sure to select "Include people based on their In-market keywords"
Then you can setup the specific keywords, and URLs you're looking to target within these ads
Using Google's auto-generated in-market custom intent audiences:
To create these, Google analyzes your existing campaigns and automatically creates custom intent audience suggestions based on the most common keywords and URLs found in content that people browse while researching a given product or service. These audiences are constantly refreshed over time as Google collects more information.
While this targeting can work, it doesn't replace up-front strategy and some creative marketing.
2. Direct Mail
Like display ads, you've probably heard of sending out mail-outs — it might even seem outdated and out-of-touch (especially after discussing Google's In-Market Audiences). Yes, yes, direct mail is an old marketing tactic, but from what we've seen over the last year it's a tactic that has been gaining impact as the rest of the market is giving it less and less attention.
Today, people are getting less direct mail than at any point in the last 50 years – and the mail they do receive is mainly bills and cheap flyers. With the decrease in mail sent as well as a decrease in the quality of the mail sent, there is a growing opportunity. If you're direct mail stands out – with stunning design, luxurious materials and genuinely valuable content – you have the opportunity to make a bigger impact than any digital platform available. With cost-per-click prices going up (in excess of $10/click for competitive industries), the $2-$3 you spend on a direct mail piece would be well worth it.
One thing to keep in mind with this is the greatest impact you'll have is typically with the smallest lists:
Well defined and vetted lists of individuals

You know their name
You know they match your target market

The content is created with their specific needs/pain points in mind
Typically we combine this with other touch points via other channels – email, in-person, LinkedIn connections, etc.
The better you can define your list and personalize the content, the better return you'll get on this investment.
Top Inbound Marketing Tactics
3. Search Engine Marketing (SEM)
If you've been researching SEM, you've probably seen that you can advertise on search engines other than Google, like Bing/Yahoo. Kicking these second-rate search engines right out the door, we've found over and over that the costs to your team's time almost always outweighs the potential return. YES, Bing can automatically "mirror" your Google search account, but this is far from perfect, and with the rapid changes to how ads are formatted, this quickly goes back to wasting your time. In our experience, the best SEM strategy is to utilize (only) Google Search Ads. This is truer than ever this year since Google rolled out Responsive Search Ads (currently in Beta) – making effective and profitable search ads even more AI-driven.
Responsive Search Ads adapt to show the most relevant message to users, based on their search terms and behaviour. What does that mean? It means that when you create your ads you'll be entering multiple headlines and multiple descriptions across multiple ads, and Google can begin serving these to users in different combinations. Google Ads then collects the data on how each combination performed (alongside how well it matches different search queries) and will automatically start serving your best combinations more often. You can also use the performance data to adapt your ad content into even more variations and target your audience with even better copy. Here's how to use them in your next Google ad campaign:
Set up at least three normal text ads within an ad group (each ad can have up to three headlines and two descriptions – use them all)
Make sure that all three of the ads are on the same topic, and targeting the same landing page and keywords (this is how all ad groups should be grouped)
Make sure that each of the three ads have unique headlines and descriptions. YES, it demands more creativity, but that's why you hire professionals to create these, right?
After you have set up your three standard ads you can setup the responsive ad – telling Google to use all of the headlines and descriptions from the three standard ads
Google then uses the performance data from the standard ads (along with the responsive ad performance) in order to create the ideal responsive ad
**NOTE: You cannot run a responsive ad without having standard search ads for Google to analyze alongside them.
This functionality is still in the initial stages but we predict that we'll be seeing a lot more Responsive Search Ads over the next year and with them, you should see a rise in click-through-rates, conversions and ROI for your business.
4. SEO vs. Top 10 Lists
If you did a quick Google search query right now for "Home Builders [Your City]," after you scrolled past the ads, you'd likely see quite a few lists rather than companies. These lists you see in your search results are typically business directories (like Houzz, HomeStars, etc.) and third-party blogs with top 10 lists. It's also likely that these lists/directories are beating you on Google and you may even be competing against them.
When you evaluate your SEO strategies and the keywords you are trying to rank for on Google make sure to consider whether you are competing against other companies in your industry, or if you're competing against business directories and top 10 listings. If you're competing against these lists, it could be a lot more cost-effective and efficient to join the list or business directory rather than attempting to rank above them on the SERP.
Top Customer Experience Marketing Tactics
5. Micro-Experiences
Most people don't associate customer experience (CX) with marketing, yet many businesses say the majority of their new business comes from referrals. If marketing includes all of the tactics you use to fuel/support your sales, the customer experience has everything to do with marketing and is often the most neglected budget within a business' marketing spend.
If you have clients spending hundreds more on your services than their cup of coffee, they sure as hell better love you more than their daily Starbucks.
In his book, "Secret Service," John Dijulius (a leader in world-class customer experience) talks about improving your business' CX through micro-experiences. He argues that customer loyalty is established not by the product, but by the numerous micro-experiences the customer has with the brand.
A smile
An enthusiastic greeting
Remembering that you like tea more than coffee
Asking about how Suzy did in her recital
Moving to compostable cups instead of just recyclable
None of this is new to 2019 (sorry to disappoint), but it has become a rapidly growing requirement for any business operating in the age of Starbucks, Disney, Westjet and the iPhone. Most businesses would say that by fulfilling everything they promised they have delivered a great experience. That's not success – that just means you're not in breach of contract!
Aim to go above and beyond the contract – not with hours, but with the unpromised details.
6. Creating Processes for Referrals & Reviews
Referral marketing generates 3-5x higher conversion rates than any other marketing channel.
Consumers rely on word of mouth 2x to 10x more than paid media, according to the Boston Consulting Group.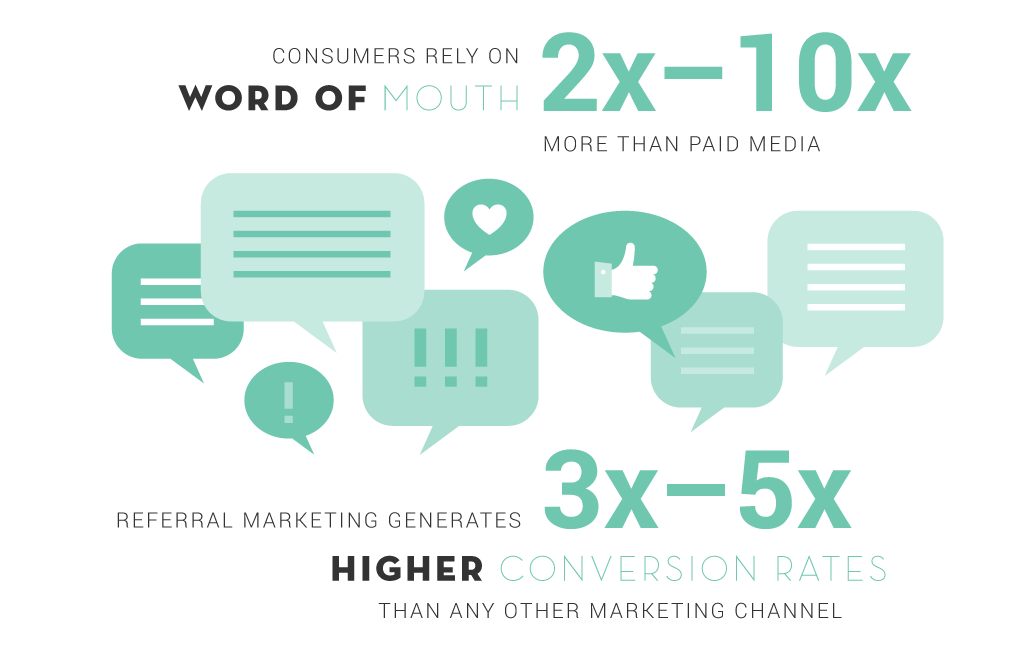 Let's turn the tables for a second and think about this from the perspective of a buyer. When you're looking for a particular service or product, what do you turn to first – even before Google? Family and friends. If you're looking for a home builder for your renovation and you know a friend recently did the same, you're going to reach out to them to get there advice and recommendation on who you should work with. What you may not realize is that 78% of people trust online reviews as much as personal recommendations.
So should you be focusing on reviews or referrals? Both – and don't get tricked into choosing one over the other.
Luckily, there is an art behind encouraging referrals and reviews from your customers. You need a process. This is a deliberate, systematic way of getting people to spread the news about how great you are.
Before we get into how to create processes for referrals and reviews, it's also important to note the difference between referrals and introductions.
A Referral is an endorsement – it means you're asking the individual to recommend you to someone they know and stand behind the recommendation.
An Introduction is just two people meeting for the first time – no strings attached, no commitment to quality and no guarantees to worry about. These are a lot easier to ask for and a lot easier to give.
A Review is also an endorsement, although a lot easier to provide – it requires no network of people, no thought and only requires 30 seconds to write something nice. These should also be easy to ask for!
With this in mind, creating policies, email templates and training employees to ask for reviews and referrals needs to be part of your 2019 strategy.
Timing
There are good times and bad times to ask for reviews, referrals and introductions. With the right timing, you should be able to get great results from all three.
Referrals should only be requested via phone (or in person) after a contract is completed – at this point the client has seen what you can do and should have no question about what they're guaranteeing when they refer you. As this becomes a concrete policy, make sure you're rolling it out not only for your sales staff, but also to the production/leadership team – this puts a bit of pressure on everyone to make sure the final hand off is always seamless and puts the client in a grateful/referral-worthy position.
Introductions are even easier to ask for, and as such, they don't require a completed project. Think about the most fool-proof, exciting moment in the client's journey – it's when they just signed the contract! Your team (bless their hearts) haven't had the chance to mess anything up, everyone is stoked for what's to come and the client just had the pleasure of hitting "go" on that project they really needed. After every signed contract, follow up 3 days later via phone (or in person) with a genuine thank you and the request for an introduction – asking if there's anyone else they may know who might benefit from your service. Affirm that you're not asking for an endorsement; just an introduction and don't put too much pressure on. At this point it's their good will that will win you this contact.
Reviews, surprisingly, can be a little harder to get responses for, and this is because you're asking via email rather than in person. It's also important that you be a little more tactical and strategic in your timing. When asking for reviews, wait for the moments when your client is happiest – the best moments are directly after the client has complimented you or thanked you for something. Once you receive those encouraging words, you have a short time frame (typically under a day) where you'll have the best success asking for that review. When you do ask be sure to send a personal email requesting that they write a review on one platform.
Don't ever ask a client to write a review for you on more than one platform at that moment – this introduces another choice and another possibility they leave it for later (ie. never). Pick the review platform that you are currently building a ranking for and target that. One link, one request. The more personal and genuine your request, the more likely the client will write the review.
=======================
There you have it, our Top 6 Marketing Tactics for 2019. Keep in mind, it's really important that you prioritize tactics in all three areas of your marketing strategy: outbound, inbound and customer experience. If you leave any of those out you'll find yourself with a leaking funnel.
2019 has shaped out to have less of a need to reevaluate what channels you market through; what's more important is diving into how to utilize those channels more effectively and how to leverage them to achieve the best returns for your business.
=======================
Learn more about our marketing strategy, graphic design, web development and SEO services here and check out a case study of one of our marketing strategy projects.
True Market is a full-service marketing agency serving Calgary and other valued clients throughout Canada and the United States. Our work is built on down-to-earth, brass tacks solutions from a team of really talented people. We help build out your strategy, equip your team to do as much as they can, and bring in our team right where you need it most, We're really good at educating, measuring and guaranteeing you understand your marketing channels and exactly why they work.
Let's talk marketing.