You've probably read one of these lists before. In fact, you've probably read a virtual library, looking for what you might be missing. SO we won't bore you with the same old lists you've heard again and again. This list is the top six tactics that we see bringing real value that you *possibly* haven't considered just yet — especially when you layer in the changes the market has seen since COVID-19 hit.
When we meet with clients to create a marketing strategy we always recommend a balanced marketing strategy — one that utilizes multiple tactics depending on where people are in the buying cycle. Different stages need different approaches and that's what we want to plan for. 
In our work we break this down as:
Outbound Marketing:

reaching new audiences — people in your target market who don't know about you and may (or may not) be searching

yet
Inbound Marketing:

capturing searching buyers — audiences that already know they need your product/service and are currently searching for a business like yours

Customer Experience:

leveraging your existing customers or clients — from the first handshake to your long term client care — this maximizes revenue and referrals
For more information on these three key stages of the customer journey in your marketing funnel, check out our article Marketing 201: The 3 Key Stages.
Now that we've covered the 50,000-foot strategy, let's dive into the most effective ways to reach these audiences and see real returns on your marketing investment.
Top
Outbound
Marketing Tactics
1. Custom Intent Audiences
Custom Intent Audiences allow you to show ads to people who are searching for keywords, websites or apps that you've selected in the days and weeks after their first search. Google qualifies users as being "in-market" for a specific topic by taking into account what they search, what ads they click, and the content of the sites and pages they visit.
This allows Google to react quickly to changes in consumer behaviour without you having to update your audiences all the time. For example, if searches surged for cleaning products, your ads could automatically show if you selected that keyword or even a competitor website as a part of your audience. 
10,000 targeted businesses reached for just $35!

In a recent campaign we did for Habitat for Humanity targeting donors, our Google Display Ads received 10,000 views (impressions) for just $35 — and here's the real kicker — those 10,000 people were within businesses in specific verticals, which we highlighted as potential donors. 

Similarly, for Habitat's ReStore, we know customers are often DIYers. Taking full advantage of custom intent audiences, we were able to target people who had visited popular DIY sites, hardware stores and Pinterest or used keywords like "DIY" in their search terms.
Here's how you can define your own in-market audiences using Google's custom intent audiences:
Think about what your target audience is

also

looking at online — one time searches, frequent website visits, etc. — these are all areas you'd say "if they're interested in ______, then they're interested in us"

Next, head into your Google Ad account and select

Tools

then

Audience Manager

Select

Custom Audiences

— this is where you can set up your new audience

Click the plus sign icon, then

Custom Intent

Make sure to select "

Include people based on their

In-market keywords

"

Then you can set up the specific keywords, and URLs you're looking to target within these ads
Learn more about targeting your key markets with custom intent audiences.
Contact Our Team
2. Direct Mail
Sending mail-outs might seem outdated and out-of-touch (especially after discussing Google's In-Market Audiences), but from what we've seen over the last year it's a tactic that has been gaining impact as the rest of the market is giving it less and less attention. 
With the decrease in mail sent as well as a decrease in the quality of the mail sent, there is a growing opportunity. 
If your direct mail stands out with a stunning design, luxurious materials and genuinely valuable content, you have the opportunity to make a bigger impact than any digital platform available.
As cost-per-click prices go up (in excess of $8/click for high-competition industries), the $2-3 you spend on a direct mail piece is well worth it.
One thing to keep in mind with this is the greatest impact you'll have is typically with the smallest lists:
Well defined and vetted lists of

individuals

 

You know their name

You know they match your target market 

The content is created with their specific needs/pain points in mind

Typically we combine this with other touchpoints via other channels — email, in-person, LinkedIn connections, etc.
The better you can define your list and personalize the content, the better return you'll get on this investment.
See how direct mail can improve your reach.
Get in Touch
Top
Inbound
Marketing Tactics
3. Responsive Search Ads
Responsive Search Ads adapt to show the most relevant message to users, based on their search terms and behaviour. 
That means when you create your ads you'll be entering multiple headlines and multiple descriptions, and Google can begin serving these to users in different combinations. This allows you to test messaging tactics like what you wrote pre-COVID vs. post-COVID to see what users respond best to. 
Google Ads then collects the data on how each combination performed (alongside how well it matches different search queries) and will automatically start serving the best combinations more often. You can also use the performance data to adapt your ad content into even more variations and target your audience with even better copy. 
Here's how to use Responsive Search Ads in your next Google Ad campaign:
Set up

at least three normal text ads

within an ad group (each ad can have up to three headlines and two descriptions — use them all)

Make sure that all three of the ads are on the

same topic

, and

targeting the same landing page and keywords

(this is how all ad groups should be grouped)

Make sure that each of the three ads has

unique headlines and descriptions. YES, it demands more creativity, but that's why you hire professionals to create these, right?

?

After you have set up your three standard ads you can set up the responsive ad — telling Google to use all of the headlines and descriptions from the three standard ads.

Google then uses the performance data from the standard ads (along with the responsive ad performance) in order to create the ideal responsive ad.
*NOTE: You cannot run a responsive ad without having standard search ads for Google to analyze alongside them.
By implementing Responsive Search Ads, you should see a rise in click-through-rates, conversions and ROI for your business.
Want to learn more about Search Ads?
Let's Chat
4. SEO vs. Top 10 Lists
If you did a quick Google search query right now for "Home Builders [Your City]," after you scrolled past the ads, you'd likely see quite a few lists rather than companies. 
These lists you see in your search results are typically business directories (like Houzz, HomeStars, etc.) and third-party blogs with top 10 lists. 
It's also likely that these lists/directories are beating you on Google.
When you evaluate your SEO strategy and the keywords you are trying to rank for on Google make sure to consider whether you are competing against other companies in your industry or if you're competing against business directories and top 10 listings. 
If you're competing against these lists, it could be a lot more cost-effective and efficient to join the list or business directory rather than attempting to rank above them on Google's SERP.
You could also get a little "backlink juice" by joining the list/directory (giving your site more authority). 
Top
Customer Experience
Marketing Tactics
5. Micro-Experiences
Most people don't associate customer experience with marketing, yet many businesses say the majority of their new business comes from referrals. If marketing includes all of the tactics you use to fuel/support your sales, the customer experience has everything to do with marketing and is often the most neglected budget within a business' marketing spend. 
If you have clients spending hundreds more on your services than their cup of coffee, they sure as hell better love you more than their daily Starbucks.
In his book, "Secret Service," John Dijulius argues that customer loyalty is established not by the product, but by the numerous micro-experiences the customer has with the brand.
An enthusiastic greeting

Remembering that you like tea more than coffee

Asking about how Suzy did in her recital

Promoting their success on LinkedIn

Sending them a note or card in the mail
Aim to go above and beyond the contract — not with hours, but with the unpromised details. These are especially important when you can't see your customers face-to-face, so make an extra effort to reach out online, over the phone or with a thoughtful note in the mail.
6. Create Processes for Referrals & Reviews
Referral-based marketing generates 3-5x higher conversion rates than any other marketing channel.

Consumers rely on word of mouth 2x to 10x more than paid media, according to the Boston Consulting Group.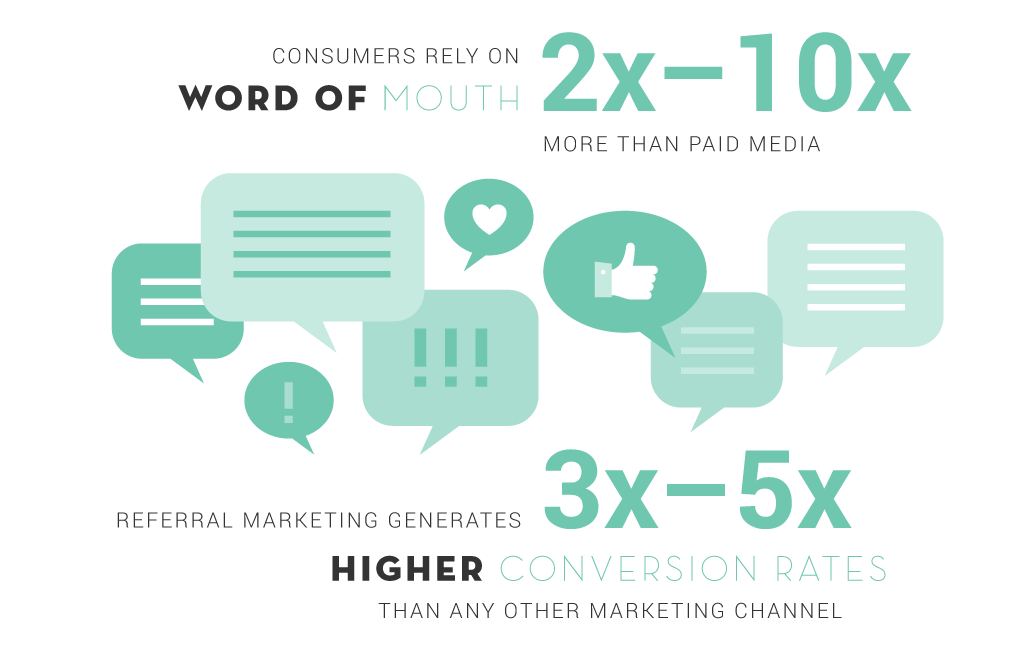 Let's turn the tables for a second and think about this from the perspective of a buyer. When you're looking for a particular service or product, what do you turn to first — even before Google? 
Family and friends. 
If you're looking for a home builder for your renovation and you know a friend recently did the same, you're going to reach out to them to get their advice and recommendation on who you should work with. What you may not realize is that 78% of people trust online reviews as much as personal recommendations.
Luckily, there is an art behind encouraging referrals and reviews from your customers. You need a process. This is a deliberate, systematic way of getting people to spread the news about how great you are. 
With this in mind, creating policies, email templates and training employees to ask for reviews and referrals needs to be part of your 2020 strategy.
Timing
There are good times and bad times to ask for reviews and referrals. With the right timing, you should be able to get great results from both.
Reviews are surprisingly easy to get – if you go about it the right way. It's also important that you be a little more tactical and strategic in your timing. 
When asking for reviews, wait for the moments when your client is happiest — the best moments are directly after the client has complimented you or thanked you for something.
Once you receive those encouraging words, you have a short time frame (typically under a day) where you'll have the best success asking for that review. There's a lot of ways you can improve the "ask," which is why we wrote an article about building 5-star reviews.
Referrals can be a little harder to get responses for, and should only be requested via phone (or in person) after a contract is completed. At this point, the client has seen what you can do and should have no question about what they're guaranteeing when they refer you. 
Another way to make the referral easier is if you're simply asking for an introduction. Rather than them putting their reputation on the line, an introduction is simply asking them to help you connect to someone new.
Put Your 6 Tactics to Use
There you have it, our Top 6 Marketing Tactics for 2020. 
Keep in mind, it's really important that you prioritize tactics in all three areas of your marketing strategy: outbound, inbound and customer experience. If you leave any of those out you'll find yourself with a leaking funnel. 
In 2020, you'll have less of a need to reevaluate what channels you market through and more of a need to dive into how to use those channels more effectively and how to leverage them to achieve the best returns for your business.
Let's Talk Marketing